COAT COLOUR
AND THE GERMAN SHEPHERD DOG
OFTEN ERRONEOUSLY REFERRED TO AS A BEAUTY ASPECT OF THE BREED THE IMPORTANCE OF COLOUR IN RELATION TO THE OVERALL DOG CANNOT BE OVEREMPHASISED AND IS OF CRITICAL IMPORTANCE WHEN BREEDING
German Shepherd Dogs vary in colour, and most colours are permissible and acceptable. In every case strong rich colours are preferred. Diluted, pale, washed-out colours blues or livers are very serious faults which have their origins in the dog's genetic background. White's or beige coloured dogs even with black points are also detrimental to breed type and are disqualified from showing and breeding. The guidelines in regard to colour are emphatically delineated in a special chapter in the SV/WUSV breed standard.
In lots of instances people choose German Shepherds of a specific colour based purely on an individual preference – this in itself is not a bad thing providing the choice is not corrupted by the desire for something which is at odds with what is normal and healthy. Most fanciers who take the trouble to learn about the breed and who want a meaningful future and life for their dogs generally take on board the coined wisdom as enunciated by the standard with regard to colour. Those who want something 'different' or 'fashionable' are hopeless cases anyway and generally have noting to contribute to the breed, the club or the dog sport.
Von Stephanitz – the father of the breed believed that the loss of pigment in the German Shepherd Dog is directly linked to a dilution in the dogs overall metabolism including the loss of its essential vitality, hardness, stamina and general resistance to disease. If the undertaking of the pursuit of breeding the Shepherd Dog is to be gone into seriously and with the interest of the breed uppermost in mind then the breeder must conscientiously take into account the dangers of introducing any factor into his breeding programme which could contribute to the weakening and degeneration of the lines he is working with.
Quiet apart from the usual indicators – coat colour, eye colour, nail colour and gum colour which most in-the-know people use as a measure to determine the pigment present in a particular dog there is also the matter of the simply obvious nose colour – something so easily seen and irrefutable evidence of dilution. With most novices this is almost always the feature point most focused upon. The breed standard demands a black nose be present in all dogs. The emphasis on the necessity for a black nose may well prompt the question – why? The answer is simple – blues have grey like noses and in the case of livers or browns the noses are correspondingly brown. It is such an easy visual marker for the existence of the dilution gene that even all-rounder judges use it as a reason to exclude dogs from placing's in the show ring. This simple rule of not allowing such dogs to be shown is a positive thing but as we know it is an almost futile gesture given the unregulated breeding system in Ireland and Britain. Excluding dogs from breed programmes, surveys and pre- selection breeding evaluations for any purpose whatsoever changes nothing - with the same dogs afterwards being retired from showing and 'used' for breeding.
The faulty 'diluted' and 'off-colours' seen in the German Shepherd breed are all due to recessive genes and become so easily strongly entrenched in bloodlines that an average of twenty-five per cent of prospective litters could produce the problem.
Breeders embarking on breeding dogs have an obligation to study and understand the basic principles of colour inheritance. Like all other knowledge this can be a valuable tool in the hands of the astute. Consideration should also be given to the strongly held belief that colour is unmistakably associated with certain anatomical and performance traits. Many great dogs are attributed with passing on their own fine anatomical and character qualities to those of their progeny who have also inherited their colour.
White German Shepherds have always existed in the breed, and have been mentioned in the earliest chronicles of its history. However every effort down the years has been made to eliminate them by assiduously avoiding the lines which have produced them. Whites should not ever be confused with the atypical albinos, as the true albino has a pink nose and eyes, while many white German Shepherds have rather dark eyes and black noses. Nevertheless, whites have never been considered desirable for the breed, or of any relative discernable worth in terms of value for work for which the German Shepherd is utilised. No serious or conscientious breeder who has the long term interests of the breed at heart would ever seriously or deliberately breed for these deleterious and ruinous affectations.
Whites are, and quiet rightly-so, banned from the show ring and breeding programmes under the SV/WUSV breed standard and this has at least effectively checked the problem when such dogs appear. An unimaginable scenario would be a registered dog from modern German lineage – white or albino – at stud for the 'benefit' of the chic breeding farms. An important word to remember in relation to these whites and that is degeneration – degeneration is evident with the indication of the lack of colour and most of all in so-called whites with a proportion of tan or buff colour on them. Because of the simple expediency of uselessness based solely on colour they are unsuitable for police and service dog roles and are also rejected on this basis by the guide dog training establishments. Whether they are deliberately bred or are the result of coincidence they can only be thought of as being suitable as pets.
Blues, or as they should be more properly called 'Dilutes' are much more prevalent in the breed than is realised and far more prevalent in terms of numbers than either browns or whites. A simple single recessive gene transmitted through each parent will result in a dilute puppy, commonly called a 'blue'. Any of the three basic colour forms can be a diluter – the agouti takes on a bluish haze and the strong sable colour is diluted to a bluish grey with a grey nose, very light eyes which may actually appear blue for the first few months of a puppy's life, grey pads and the overall colour of a Weimariner.
There are fashions in dogs as indeed there is associated with almost all things in life, hence those 'breeders' who produce the 'rare colours' and who contribute a destructive and misleadingly negative allegory to what is intrinsically wrong and harmful to the German Shepherd breed. Sure, it is possible to breed almost any colour in German Shepherd Dog – all that is necessary is a little knowledge of the scientific principles of inheritance of colour, the patience to experiment, and time. But in reality such an undertaking would accomplish nothing constructive for our breed, in which colour must always be subordinate to type, structure, gait, character, and of course the all important working ability. Not alone would the acceptance of these undesirable characteristics even in their most diluted form be in themselves highly detrimental but the fact that other inherited traits that may be associated with these dogs genetic pools in regard to clinical health, dentition and nerves would complicate things even further – leading to a degenerative spiral of privation from which there could be no way back.
The person who declares a love of German Shepherds and who aspires to owning one are in conscience bound to do the right thing – and get a dog from one of the officially accepted colours. To do otherwise is to invalidate over a hundred years of history and denigrate a wonderful and proud record of service to mankind by this breed.
The following are some examples of the popular and acceptable colours or combinations of coat pigment to be aimed for. In all cases the dogs eyes should be dark in colour; the nails should be black, as should the nose and the pads of the feet.
THE MOST COMMON COMBINATION OF STRONG BLACK AND TAN
THE DARK GREY SABLE SO BELOVED OF DOG SPORT PEOPLE
THE MOST COMMON GREY SABLE COLOUR PREDOMINATES IN WORKING LINES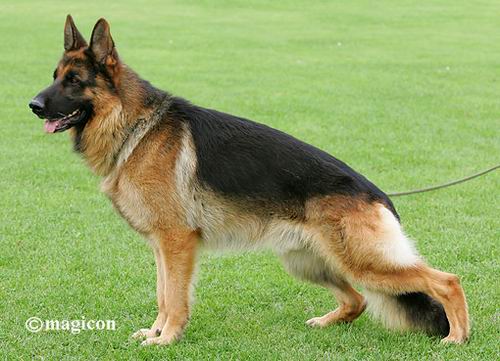 THE POPULAR BLACK AND GOLD OF THE MAIN SHOW LINES
BLACK AND LIGHT GOLD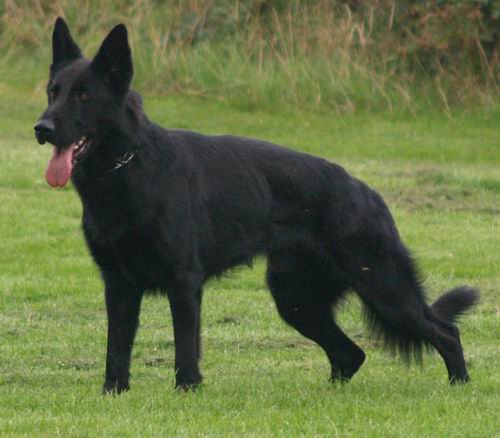 ALL BLACK FROM THE WORKING LINES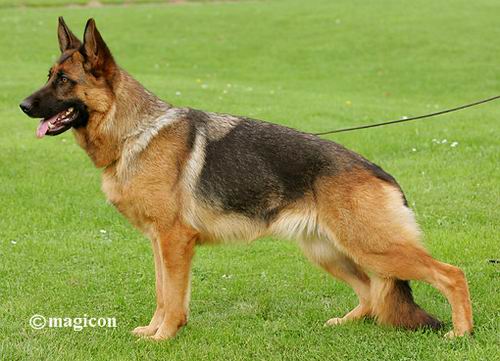 GOLDEN SABLE - SHOW AND WORKING LINES
THE BI-COLOUR – BLACK WITH GREY OR TAN
BLACK AND RED GOLD – FROM SOME MODERN SHOW LINES
BLACK AND FAWN
THE BLUE – MOSTLY A PRODUCT OF FARMING
THE WHITE – THE PRODUCT OF FOLLY